Take a 3D tour of Laurel Place
Scroll down to tour two of our private rooms!
Companionship & Security
Assisted Living offers an atmosphere of comfort and security, allowing residents to make more time for the things they love. Our residents have access to nursing support 24 hours a day, and our compassionate staff is dedicated to providing an unparalleled level of personalized care.
At Laurel Place Assisted Living, you're living independently, but you are never alone.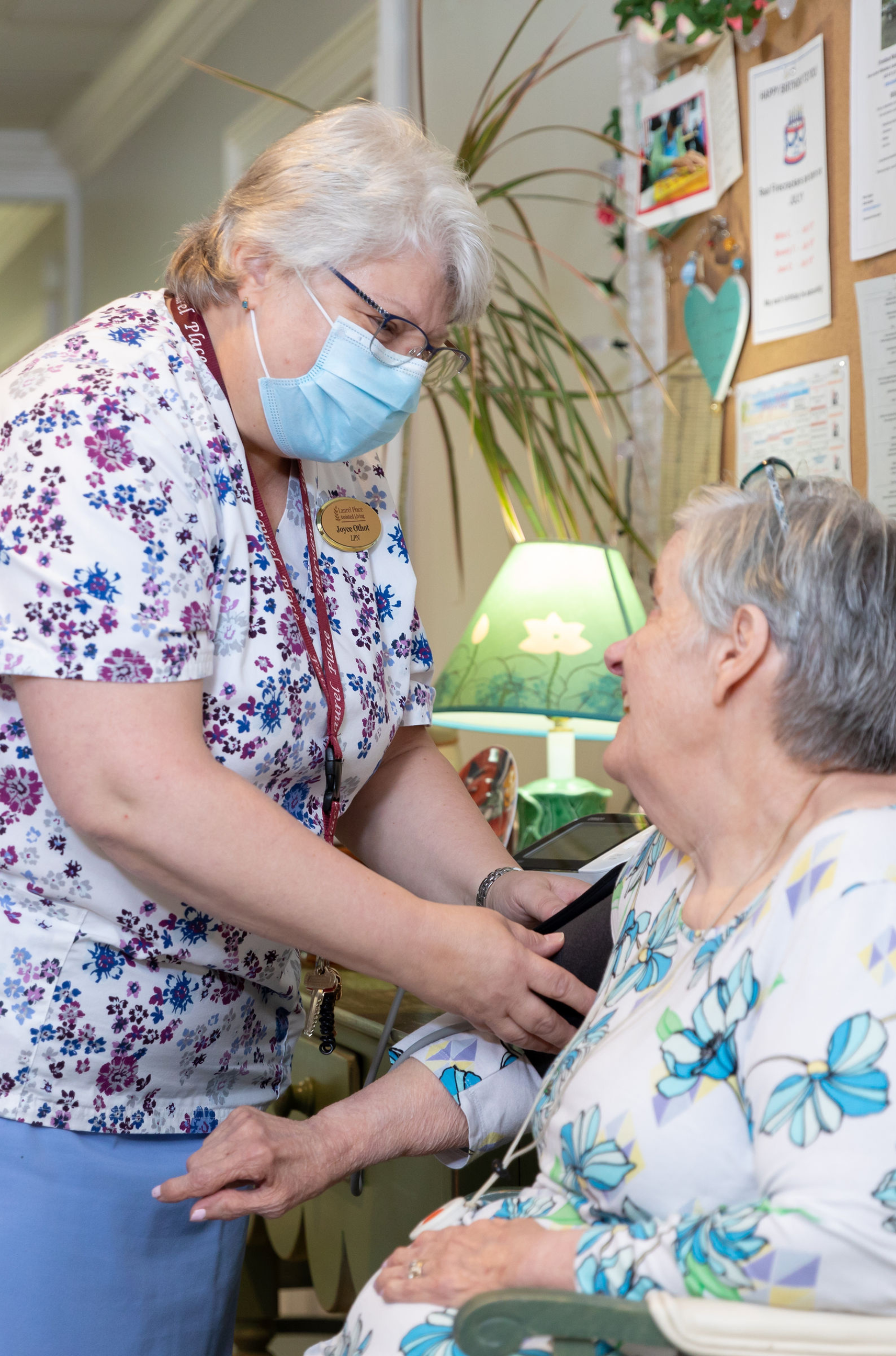 Services & Amenities
At Laurel Place, we offer 24 ground-floor private suites (with private bathrooms) designed for comfort, privacy, and security. Each suite is designed with tasteful architecture and decor to portray the warm, inviting atmosphere that Laurel Place offers.
Laurel Place offers several communal areas to take advantage of, including a library/living room, a main dining room, and a private dining room. We'll handle all the tedious household chores that you may no longer have time for, such as housekeeping, laundry services, and meals. You also have secured access to your ground-floor suite, private patio, and garden.
Assisted Living includes:
A furnished suite with a private patio and garden
Full-service dining for 3 daily meals
Nutrition management
Meal delivery in the event of temporary illness
24-hour nursing care
Medication administration and management
Assistance with daily living activities, as needed
Housekeeping and laundry services
Cable TV
Phone service
All maintenance
Full schedule of community-led activities
Friendly, attentive staff
Priority placement at Fairview and The Inn
We recognize the importance of providing programs that aid our residents in building and fostering relationships. We offer high-quality opportunities to nurture the curious mind, feed spirits, and exercise our residents' minds and bodies.
Some programs we offer include:
Music Therapy
Fully-supervised outings
Barber, beauty shop, and manicures
Group exercise and walking groups
Live musical entertainment
Creative crafts and painting
Cooking and baking groups
Guest speakers
Coffee socials
Weekly spiritual programs
Word and trivia games
Themed parties and events
Resident Council meetings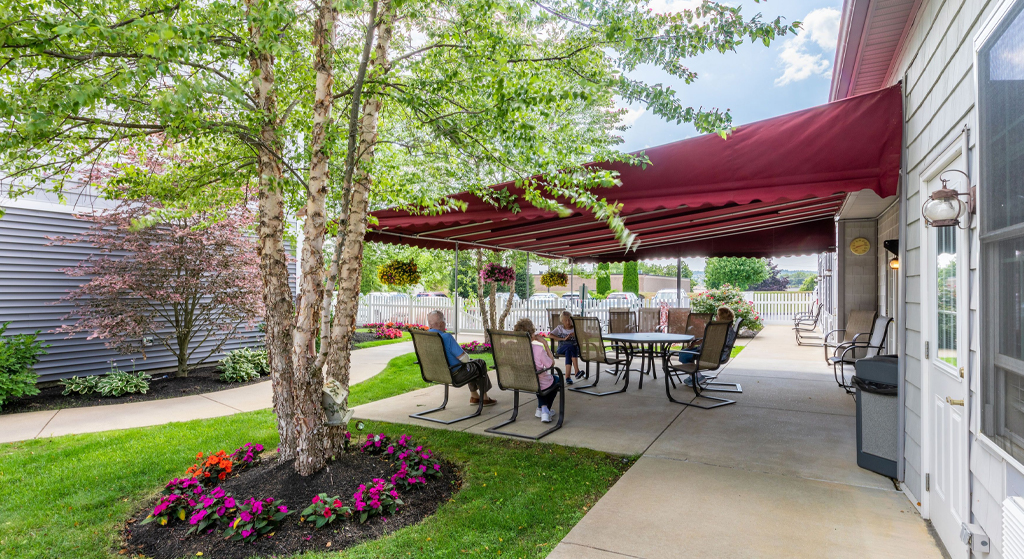 Tour Two of Our Private Rooms
How Do I Know My Loved One Needs Assisted Living?
You may be the first to notice your loved one needs additional support in their day-to-day life. It's important to be diligent when suggesting someone you care about making the transition. It can be a difficult decision.
Typically, if your loved one is beginning to neglect their responsibilities, health, and hygiene, it may be a sign that they are having difficulty performing daily activities. Forgetting doctor's appointments, frequent bruises, and a generally untidy home and yard can be warning signs that you may need to discuss assisted living with your loved one. If your loved one is alone all day with little social interaction, their social needs may not be met and they could benefit greatly from being a part of our community.
We can provide top-quality care to alleviate stress on you and your family.
30 day respite is available.
How Can I Help My Loved One Feel More at Home?
Moving into a new place can be intimidating for anyone at any age. Making the change from independent living to assisted living can mean significant changes for anyone, but we want to help. We work hard to ensure our assisted living suites are inviting and comfortable.
If your loved one is having a hard time adjusting, they're not alone. Be sure to visit them as much as possible so they can be surrounded by people they care about. Additionally, bring them some photographs and personal belongings to make their suite feel more like home.
How Can I Help My Loved One Understand the Need for Assisted Living?
It can be difficult to discuss when your loved one may need to transition from independent living to assisted living. If your loved one is having a hard time understanding why assisted living is necessary, our compassionate and empathetic staff can help give you the resources needed for a productive conversation.
If your loved one struggles with memory and experiencing cognitive impairment symptoms, Memory Care may be a preferable option.
If you or your loved one are struggling to make a decision, you can always try a 30-day respite.
What is the Process for Move-In?
Before residents can move into our community, they must first fill out our application form. If approved, we will request physical & medical information.
All potential residents will receive a pre-admission screening to determine the level of care they need, including what medications, dietary restrictions, and physician orders they must follow. They will then sign various forms including our Residency Agreement and Consent to Treat before scheduling a date to move in.
When Can I Visit My Loved One?
Our residents can receive visitors 24 hours a day/7 days a week with no appointment necessary.
Is It The Right Time For Assisted Living?
Laurel Place Assisted Living Testimonials
I can't express how grateful all of my brothers and sisters are with the care Mom is receiving at Laurel Place. She has always been so special to us all and placing her was very hard for us. In our eyes, no one was going to be able to care for her like we could. But then came Laurel Place! We are all at peace with the decision. The staff is phenomenal. The love and care that we have witnessed is remarkable. Everyone has been so wonderful to Mom as well as us during this transition.
Louise T.
"Deciding where my mother would reside after she fell ill and could no longer care for herself, was an easy decision. Fairview Rehab and Nursing Home have been near and dear to my family's heart for many years. The facility was my Aunt's home for over 12 years as well as where my father rehabbed after a near fatal infection. We chose Laurel Place for my mother's new residence. It was truly her home for the last two years of her life. We cannot say enough about every aspect of the facility. The Executive Director and Activities Director are exceptional at caring for the elderly. It is not just a job to them, but rather an extension of their lives. The extraordinary care does not end with them. Every nurse, nurse's aide, kitchen and cleaning employee, and maintenance worker show the residents the utmost care and compassion. My mother sincerely loved every person she came in contact with. A home is not a home without the love of those in it and Mom received that at Laurel Place."
Kathy S.
"My mother-in-law has been at Laurel Place for almost two years and it has consistently exceeded my expectations. It is a small, close-knit community with a warm, welcoming aura and a high consistency of caregivers with little turnover. Their staff are some of the most caring individuals I have ever encountered. Every day they go out of their way to understand my mother-in-law's needs and meet them almost immediately. The activities coordinator is extraordinarily creative; she keeps residents engaged constantly via live music, games, arts, crafts, parties, discussions, and much more. The facility and its grounds are meticulously maintained and the meals are excellent."
Tina M.
"My mother was admitted to Fairview for rehabilitation after a short hospital stay; when her time was done at rehab, she still was not able to go home safely so we met with the director of Laurel Place and decided to try a respite stay until we could figure out her next move. We visited four other assisted living residences, as well as contacting a home health agency, trying to figure out something closer to family, but decided to keep mom at Laurel Place due to the excellent care she has been receiving. This is a difficult and unanticipated decision to make, and the staff at Laurel Place have been wonderful as we worked through this process to find the right place to meet mom's needs."
Jessica M.
"This is my 4th year as a resident of Laurel Place. The best praise I can think of is this……..If I had known how wonderful life could be in my senior years, I would have sold my house and moved in here 10 years earlier!
Let me tell you why….I have never met such kind, caring, available staff in my 87 years. Privacy is the utmost concern. No one pressures you to do anything you are not comfortable with. You can join the many social activities or not. I choose to read, watch old movies and am addicted to Sudoku.
My apartment has a patio outside my door where I sit and enjoy the peace, quiet and good weather and water my plants. Also, there is a sidewalk around the campus to enjoy the beautiful landscaping which is groomed weekly.
We have a lovely dining room that serves 3 meals daily or we can choose room service. Our menu is changed weekly with a choice of 2 entrees and homemade desserts by our chef.
Physical therapy is on the same floor and easily available with a great team of therapists.
Nursing care is "par excellence", working hand-in-hand with physician's assistants and doctors from the local hospitals. Nurses deliver our medication as needed and are just a call button away. There is ample opportunities to mention pain or discomfort.
Did I mention we even have a hairdresser salon, where we can visit weekly.
Once a month we have a Resident Council Meeting where we can voice our concerns and ideas. But, if you have an immediate concern, you can go directly to the Executive Director whose office is right on the floor. She is always available and she gets it the 1st time, no need of long explanation.
The one thing that stands out above all is the compassionate, benevolent, sensitive attitude that surrounds us here in Laurel Place."
E.
"My dad was so happy at Laurel Place! He had been in his own home
( one that he built) for over 60 years. Thus, we, as his family were a bit anxious about moving him to an assisted living facility. Laurel allowed him to experience the joy of activities, making new friends and some amount of independence. The staff from dietary to nursing to facilities to activities to management were beyond compare. They were all caring and competent. Quite often he would say " you girls picked a good place" as he smiled a broad and cheerful grin. We did a considerable amount of research before choosing Laurel Place. This was the best and he loved it."
Denise T.
Compassionate Care in Hudson, New Hampshire
You can find us at 203 Lowell Road in Hudson, New Hampshire.
Easily Accessible
Our community is easily accessible from Hampshire Drive and Lowell Road.
Fairview Rehabilitation & Skilled Nursing

Steve Pazulski
Laurel Place Assisted Living

Sylvie Cotnoir
The Inn at Fairview Memory Care

Greg Batchelder
Connect With Us On Facebook
Fairview Senior Living
Fairview Rehab & Skilled Nursing
Laurel Place Assisted Living
The Inn at Fairview Memory Care
Load more