Rest and Recovery
At Fairview Rehabilitation, we help those recovering from surgery, illness, injury, or a serious medical event. Our multidisciplinary team provides the care needed for a swift and efficient recovery, and our individualized care plans are designed to help you achieve the highest level of independence, function, and quality of life.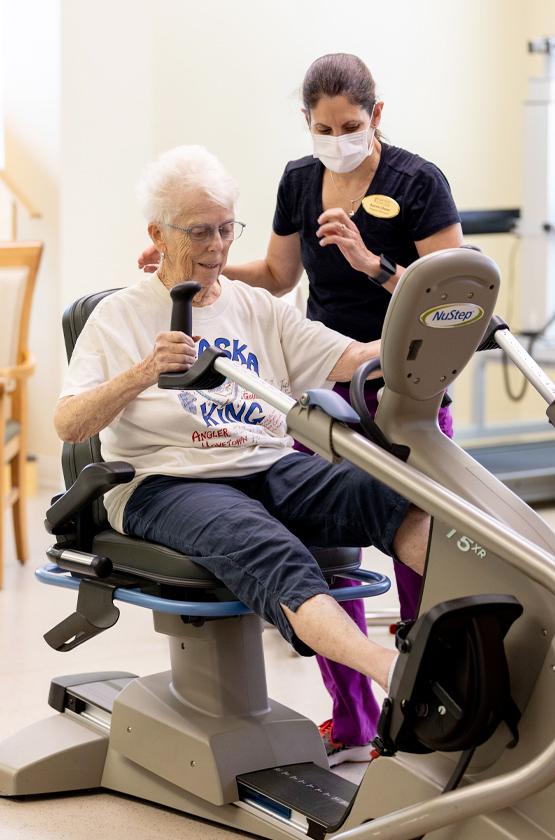 Services & Amenities
At Fairview Rehabilitation, we offer 3 types of rehabilitation services:
Speech Therapy: For individuals with swallowing, communication, and speech or language disorders.
Occupational Therapy: For individuals who need help with fine and gross motor coordination and daily living activities.
Physical Therapy: For individuals who need help with strengthening, flexibility, gait training, device use, fall prevention, and pain control.
There are private and semi-private suites available at Fairview Rehabilitation to ensure our residents have access to the comfortable accommodations necessary to recuperate. We offer a multi-disciplinary approach to assist individuals recovering from a myriad of ailments, giving them the required resources to facilitate a speedy recovery.
Services and amenities include:
3,000 sq. ft. gym
Private treatment rooms for therapeutic modalities
Physical therapists
Occupational and speech therapists
Spacious furnished suites that include a private bath, flat-screen TV, and ample room for guests
Multi-disciplinary rehabilitation team, including specialty nurses and physicians

How Do I Know My Loved One Needs Rehabilitation?
If your loved one has experienced an illness, injury, surgery, or serious medical event, rehabilitation may be necessary to successfully transition back into the home environment. Depending on the severity of the ailment, your loved one may have difficulty recovering without assistance.
How Can I Help My Loved One Feel More at Home?
Having to spend an extended amount of time away from home can be difficult to adjust to, especially if your loved one is in pain or challenging therapy. At Fairview Rehabilitation, we work hard to ensure our suites are comfortable and spacious for residents. However, your loved one may still have a difficult time adjusting.
Bring some photographs or personal belongings to help your loved one feel more at home and visit them as much as possible. Recovery can be a difficult journey, but it doesn't have to be unpleasant.
How Can I Help My Loved One Understand the Need for Rehabilitation?
In some cases, your loved one may feel they are handling recovery adequately on their own. However, this may not be the case. We can help your loved one understand the need for external assistance and ensure they are comfortable.
Additionally, it may help to have a general physician recommend rehabilitation services to help your loved one understand that it's necessary.
What is the Process for Move-In?
Before a new resident can move in, they must first fill out our application form and provide medical and physical information obtained within the last 30 days of applying. Medicare patients who've been discharged from their hospitals can fill out their application in-home, so long as their discharge period doesn't last over 30 days.
Our staff will then perform a pre-admission screening to ensure we are up to date with all the medications, doctor-recommendations, and dietary requirements your loved one needs to maintain an excellent quality of life. After this, your loved one will fill out various forms including our Residency Agreement and Consent to Treat before picking a suitable date to move in.
When Can I Visit My Loved One?
Our residents can receive visitors 24 hours a day/7 days a week with no appointment necessary.
Is It The Right Time For Rehabilitation?
Compassionate Care in Hudson, New Hampshire
You can find us at 203 Lowell Road in Hudson, New Hampshire.
Easily Accessible
Our community is easily accessible from Hampshire Drive and Lowell Road.
Fairview Rehabilitation & Skilled Nursing

Steve Pazulski
Laurel Place Assisted Living

Sylvie Cotnoir
The Inn at Fairview Memory Care

Greg Batchelder
Connect With Us On Facebook
Fairview Senior Living
Fairview Rehab & Skilled Nursing
Laurel Place Assisted Living
The Inn at Fairview Memory Care
Load more